How VoIP Works
Phone service with GoTel is simple. There are three components to our phone systems: phone numbers, a PBX server, and VoIP phones. When you receive an inbound call, the call comes through a phone number which points to a PBX server, which determines how the call is to be routed to VoIP phones connected to the PBX. When you make an outbound call, the opposite happens: the VoIP phone routes through the PBX which routes the call out of your network. The graphic below illustrates this relationship: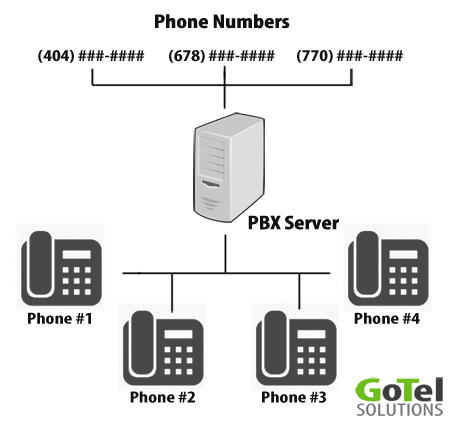 Phone numbers:
GoTel works exclusively with premium carriers when obtaining phone numbers (also known as DIDs, or direct inward dials) for our customers. We have access to a large inventory of local and toll-free phone numbers and can also assist with acquiring vanity phone numbers upon request.
Basic Caller ID and 911 service is included with all phone numbers. We also offer Inbound CNAM (for obtaining caller name / company) as an add-on service.
For more details about GoTel's VoIP services, check out our VoIP Service page.
PBX solutions:
The PBX is the brain of the VoIP phone system: it serves phone calls to VoIP phones, controls call routing, stores voicemail files, and is extremely customizable. Call routing can be as simple as routing to a single endpoint device or through a multi-level queue system for call center applications. Calls can be routed differently depending on the time of day, and many other features including auto-attendants, call recording, and e-mail integration are available. The possibilities for customizing an open-source PBX are nearly endless.
We offer hosted PBX solutions as well as local PBX installations (Elastix or PBX in a Flash). For most businesses, our hosted PBX solution is the ideal option because of its combination of high reliability, low cost, and simple set-up. The table below illustrates the advantages of Hosted PBX and Local PBX systems:
Cloud: Lower cost, no hardware failures, no electricity cost, reliable data center internet connection
Local: Cut bandwidth use in half, total control & flexibility of integration, integrates with any VoIP provider
For more details on GoTel's PBX solutions, check out our PBX Solutions page.
VoIP phones:
All of our PBX solutions are open-source and flexible enough to work with most modern VoIP endpoint devices. We recommend Aastra and Grandstream VoIP phones due to their combination of low cost and high build quality and can install and configure these phones alongside our phone systems.
To browse our VoIP phone inventory, check out our VoIP Phones page.
Still have questions about how GoTel's VoIP service fits with your business? We're happy to answer your questions -- give us a call at (678) 726-1111.